MLK Jr. Day of Service
Make Martin Luther King Jr. Day a "day on, not a day off."
Building the Beloved Community
Dr. Martin Luther King Jr. lived his life serving others. Following his example, millions of Americans serve on Martin Luther King Jr. Day of Service. At our children's schools, at a local shelter, or lending a hand to help our neighbors – we bring to life his vision of neighbors working together to build a better future.
In 1989, our founder President George H.W. Bush signed the Martin Luther King Jr. Federal Holiday Commission Extension Act, accompanied by Mrs. Coretta Scott King. In honoring Dr. King's legacy each year on MLK Day, we have the unique opportunity to reflect on the gains we have made, and re-commit ourselves to the work that remains as we strive for a more just society.
Monday, Jan. 16, 2023
Honor the memory of Dr. Martin Luther King Jr. by serving your community
Ways to Get Involved
On MLK Day, millions of Americans honor Dr. King's legacy by coming together for a national day of service and dialogue. Make it a day on, not a day off. Find or host an MLK Day opportunity near you.
Join our Listen. Learn. Act to End Racism Conversation
On Jan. 13, join us in conversation with Wil Haygood, acclaimed biographer, Pulitzer finalist, award-winning author and reporter, and Dr. Eddie S. Glaude, Jr., New York Times bestselling author and chair of Princeton's Department of African American Studies. They'll discuss storytelling as a powerful vehicle to advance social justice, and how a storied past continues to shape our national identity and common values. When used to advance social justice, stories, both fact and fiction, enable us to imagine the world in a different way.
Register Now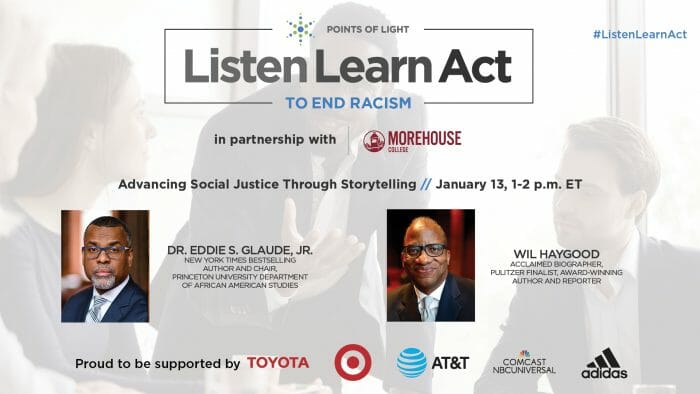 Find a Points of Light Global Network Affiliate
Join an #MLKDay service project in your community with a local volunteer action center near you.
Learning from Our Own History
"Change only happens when ordinary people get involved and they get engaged, and they come together to demand it" - President Barack Obama. Local community building can change the world. Watch #ObamaHBO: In Pursuit of a More Perfect Union, to learn more about how President Obama's commitment to community can inspire us all.